Adult soccer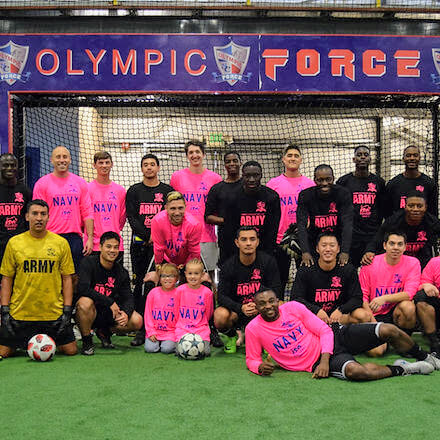 Leagues
Leagues are split up based on skill-level and/or age. Each league plays games year-round. The games played are scheduled into individual sessions. When a league session starts, each player must be 18 years or older or 16-17 years old with parental permission. Some leagues play on the same day and time, but on different indoor fields. Games are 5 v 5 + keepers.
The league rules combine both the USIndoor Sports Association rules and facility rules.
Scheduling
Adult league registrations open: January 2nd, 2023
Register your team today: Sign up
The dates when each league session is planned to start is as follows (there are no adult league games on Saturdays):
Session
# of Games
Sunday
Monday
Tuesday
Wednesday
Thursday
Friday
Coed B & C
Men's B & C
Women's B & C
Men's A & B
Men's Over 40
Coed Over 30
Fall 2022
10
9/11
9/12
9/13
9/14
9/15
9/9
Winter #1 2022/2023
10
12/4
11/28
11/29
11/30
12/1
12/2
Winter #2 2023
10
2/12*
2/13
2/14
2/22
2/16
2/24
Spring 2023
10
TBD**
TBD
TBD
TBD
TBD
TBD
Summer #1 2023
10
TBD
TBD
TBD
TBD
TBD
TBD
* 8 game session (instead of 10) due to holiday closures. ** 9 game session (instead of 10) due to holiday closure.

Each session will be available for team registration in DaySmart a minimum of 3 weeks prior to start dates listed above. Dates above are subject to change due to facility closures, new leagues, tournaments, or other unexpected closures.

Other important scheduling related notes:
First game schedule will be released 48 hours prior to first game.
Full session schedule will be released 48 hour prior to second game at the latest.
Schedule requests must be received by the end of the day of the first week of play.

Please be aware requested byes will likely result in a double header.
If a double header is already planned for your league due to holidays, this could result in giving your team multiple double headers.
Contact info@bremertonsports.com with any soccer league-related schedule requests, questions, concerns, and feedback.
Drop-in games
Drop-in games play on specific days and times and do not have rostered teams. Generally, players show-up, pay, and split up into teams based on the players that show. Each player must be 18 years or older or 16-17 years old with parental permission.
| Sunday | Monday | Tuesday | Wednesday | Thursday | Friday | Saturday |
| --- | --- | --- | --- | --- | --- | --- |
| | Women's Open @ 2:00pm | | | | | |
| | Men's Over 50 @ 6:00pm | | | | | |
Pricing
The adult soccer related fees are as follows:
Annual membership fee: $35 / player / year
League team fee: varies (see DaySmart for current pricing for your team)
Substitute (sub) fee: $10 / player / game
Drop-in game: $10 / player
League team fee balance must be paid in full BEFORE the first game. League team rosters lock after the third game of the current session.
If a player would like to substitute play on a team, that player must obtain a "sub slip" from guest services on the day of the game for each game the player would like to play. The above sub fee will be assessed at guest services for each game except for the first game when the player:
is currently rostered on a team that plays in the same league on the same day.
just signed up for a membership or renewed their membership.
For all other first and subsequent games, a sub fee will be assessed. Please review the league rules for more information and rules related to subs.
For questions, concerns, and feedback regarding leagues, please contact: info@bremertonsports.com
Looking for youth soccer leagues?
Details about youth soccer leagues offered at Bremerton Sports Center can be found here on our Youth Soccer leagues page.